posted by
sarah.binns2
on
Tue, 04/22/2014 - 15:33
The village salad accompanies most meals in Cyprus and Greece.
According to the season and availability of other vegetables and greens, people experiment with it and create their own seasonal versions.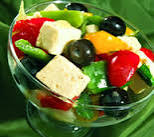 Ingredients:
3 tomatoes cut into wedges
2 cucumbers cut in slices
1 green pepper cut in half and then cut into thick strips
½ red onion separated into rings
1 piece (about 150-200 grams feta cheese)
1/2 cup kalamata olives (optional)
1 tablespoon of dried peppermint (or oregano)/or to taste
For the dressing:
3 tablespoons olive oil
1 tablespoon red wine vinegar
Salt and pepper (to taste)
Process:
1. Prepare the vegetables as described
2. Mix together in a serving bowl with the feta cheese
3. Combine the ingredients for the dressing
4. Pour over the salad, mix well and serve
healthy alternative:
This is a wonderfully healthy meal in itself, if served with crusty bread.