posted by
sarah.binns2
on
Tue, 06/10/2014 - 13:14

Papanași - is a Romanian traditional fried or boiled pastry resembling a small sphere, usually filled with a soft cheese such as cow cheese and any kind of sour jam (usualy blueberry jam).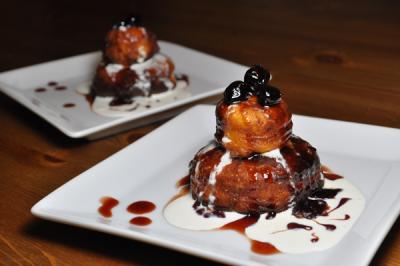 Ingredients:
250g sweet cheese
1 teaspoon of salt
1 teaspoon of cinnamon
1 teaspoon of baking powder
8 gr of vanilla sugar (1 sachet of vanilla sugar)
2 eggs
1 half lemon zest
500 ml of oil (for frying)
250g wheat flour
blueberry jam (for serving)
Unfermented cream preferably (can be sweetened with powdered sugar)
Process:
1. Put the cheese in a mixing bowl, add salt, vanilla lemon zest and cinnamon. Add a teaspoon of baking powder. Mash it together with a fork and stir, then add the two eggs. Mix until the eggs and cheese are smooth, add the flour and begin to coalesce with a spoon, then take it to kneading.
2. The amount of flour absorbed can vary slightly depending on the size of eggs, the moisture content of the cheese and the power to encapsulate the liquid . Usually between 230-250 grams of flour works well, but sometimes an extra spoonful is needed to get a dough that does not stick to the hands, but remains soft.
3. The dough is divided into 5 large pieces for cheese pancakes, and five smaller pieces for the tops.
4. Using plenty of flour to stop the dough from sticking, shape the small pieces into ball-shaped, round up the large ones, squash and with fingers form a hole that widens slightly, allowing the donut to get cooked inside during frying.
5. For frying, the ideal is a cast iron pot or pan with thick bottom. Pour in the oil to a depth of at least 5-6 cm and heat on medium heat until a small piece of dough immediately plunged into bowl forms bubbles around it and floats in the oil, then reduce the heat. Fry the papanașii in batches until nicely browned.
6. Drain the papanașii on absorbent paper, removing any excess oil.
7. Serve the warm papanași, drowned in cream and garnished with jem.
healthy alternative:
This is a fried desert, so it contains a fair amount of fat. You could experiment with baking the doughnuts rather than deep frying them, and then serve with a yoghurt or creme fraiche rather than full fat cream.