posted by
admin
on
Fri, 02/28/2014 - 08:16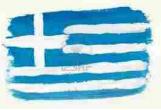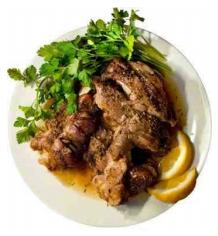 Ingredients:
Ingredients for 4 people:
4 pieces of lamb on the bone (~ 400 gr. Each)
1/2 pound feta hard diced
1 cup gruyere, cut into cubes
5-6 cloves garlic, crushed
4 tablespoons butter fresh
15 Santorini cherry tomatoes cut in half
salt - freshly ground pepper - thyme
Process:
Wash the pieces of the lamp and let them drain well. Sprinkle with salt and pepper and a little thyme and refrigerate to marinate for half an hour. Lay a large piece of rice paper in a deep ovenproof dish and put in the pieces of lamb, the feta cheese,the cherry tomatoes of Santorini and the crushed cloves of garlic. Sprinkle with a little thyme and pour even spread butter on top. Close the rice paper from the edges and tie with string so as to form a pouch. Bake in preheated oven for 4 hours at 180 ° C. After removing from the oven to serve warm.
healthy alternative:
In this recipe, you can use olive oil instead of butter and mastelo cheese from Chios instead of feta cheese for a healthier result.