posted by
sarah.binns2
on
Tue, 06/10/2014 - 11:19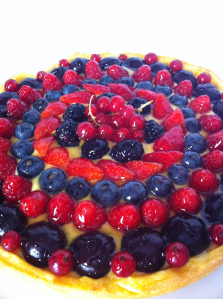 Ingredients:
Pasta frolla:
200g flour
225g sugar
400g unsalted butter
1 egg and 1 yolk
The grated zest of a half a lemon/orange
The cream:
6 tablespoons flour
160g sugar
A vanilla bean, or 1/2 teaspoon vanilla extract
The yolks of 6 very fresh eggs
500 ml whole milk
A pinch of salt
The syrup:
275g sugar
240ml water
The zest of a lemon or half an orange, cut into strips
Fruits:
Strawberries, raspberries, blackberries, currants, blueberries, peaches, apples, pears, kiwifruit, bananas, oranges, grapes and so on -- the important thing is variety
Process:
1. For the pasta frolla, mix the flour and sugar; cream the butter, make a ball and rest for at least an hour.
2. Once the dough has rested, butter a flat-bottomed pan about 12 inches across and preheat your oven to 350 F (175 C). Roll the dough out somewhere between a quarter and a half inch thick; work quickly, without working the dough overmuch,
3. Place in the pan and cover it with a layer of ovenproof paper. Bake the base for 20-25 minutes, remove it from the oven and let it cool.
4. To make the cream, set all but 120ml of the milk to warm over a slow burner with the vanilla bean. Then, lightly whisk the egg yolks in a bowl to break them. Sieve the flour and sugar into the bowl and then the remaining milk. By this time the milk on the stove will be about ready to boil. Whisk the milk with the vanilla bean into the egg-milk mixture.
5. Return the cream to the pot and the pot to the stove, and continue cooking over a low flame until it thickens. Allow it to cool, laying a sheet of cling film directly over its surface to keep a skin from forming.
6. For the syrup, bring all the ingredients to a gentle boil and cook the syrup down until some dribbled from a spoon forms filaments. Fish out and discard the lemon zest.
7. Wash the fruit, pat it dry, and slice it (the strawberries into halves, and the remainder as you prefer.
8. Spread the cream over the pastry dough, and then lay the sliced fruit over it in whatever pattern you find most pleasing. When you are done, gently brush the fruit with the syrup, and serve with a flourish!
healthy alternative:
To make this pudding a little healthier, you could substitute half of the butter in the base with a low fat spread. This would reduce the saturated fat content.