posted by
sarah.binns2
on
Mon, 06/09/2014 - 18:43

Apple cakes like this one are the traditional sweet in Ireland.
The recipe varies from house to house and the individual technique has been passed from mother to daughter for generations. It would originally have been baked in a bastible or pot beside an open fire and later in the oven or stove on tin or enamel plates – much better than oven proof glass because the heat travels through and cooks the pastry base more readily.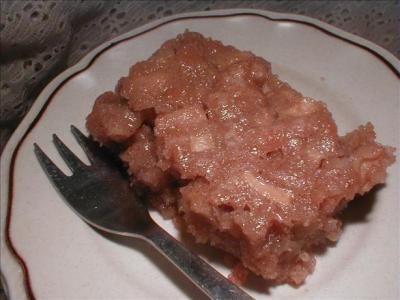 Ingredients:
225g plain flour
¼ teaspoon baking powder
110g butter
125g caster sugar
1 egg, free-range if possible, beaten
50–120ml milk, approx.
1–2 cooking apples – we use Bramley Seedling or Grenadier
2–3 cloves (optional)
beaten egg, to glaze
Barbados sugar and whipped cream to serve.
Process:
1. Sift the flour and baking powder into a bowl. Rub in the butter with your fingertips until it resembles the texture of breadcrumbs.
2. Add 85g of the caster sugar, then make a well in the centre and mix together with the beaten egg and enough milk to form a soft dough. Divide in two. Put one half on to your greased ovenproof plate and pat it out to cover.
3. Peel, core and chop up the apples. Place them on the dough with the cloves, if using, and sprinkle over the remaining sugar – the amount you need will depend on the sweetness of the apples.
4. Roll out the remaining pastry and fit it on top. (This is easier said than done as this 'pastry' is very soft like scone dough. You may need to do a bit of patchwork if it breaks.) 5. Press the sides together and cut a slit through the lid. Brush with beaten egg and bake in a moderate oven (180ºC/350ºF/gas mark 4) for about 40 minutes, or until cooked through and nicely browned.
5.Dredge with caster sugar and serve warm with Barbados sugar and softly whipped cream.
healthy alternative:
This is a rich and delicious pudding made with a buttery pastry. You could substitute the butter for a low fat spread to reduce the amount of saturated fat, and serve the pudding with a dollop of creme fraiche or natural yoghurt instead of the cream.