posted by
sarah.binns2
on
Wed, 04/23/2014 - 15:47

This is a classic dish from the centre of Portugal (Beiras region) – Bacalhau à Lagareiro.
Lagar is the Portuguese term for olive oil press and Lagareiro refers to the worker of the press.
This recipe, not surprisingly, is very much about putting the best quality olive oil) at the centre of the dish. Together with flavourful garlic and "punched potatoes", this is one of those simple combinations of flavours and textures that is characteristically Portuguese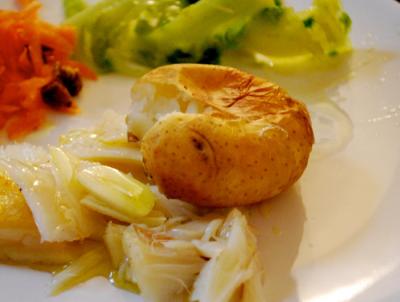 Time needed:
Preparation time: 20m Cook time: 40m Total time: 1 hour
Ingredients:
4 slices of salted cod
3tbl of extra virgin olive oil
6 cloves of garlic (sliced)
2 bay leaf
1kg small new potatoes
Salt
Parsley
Process:
1. Soak the codfish for 2-3 days, depending on its thickness, changing the water twice a day. Use cold water in a large container and follow protocol by placing the codfish tranches always skin up. You can make small knife incisions through the sides to let water penetrate the codfish and speed up the process.
2. Take the codfish from the water and dry it. Place the codfish on a tray. Add the olive oil, the peeled cloves of garlic and the 2 bay leaf. Place the tray in the oven. Occasionally, use the sauce to moister the fish.
3. Wash the potatoes keeping the skin on very carefully and place them on an oven tray. Cover them with salt and place them in the oven, already heated at 200ºC, for about 40 minutes. The skins should be crispy and the inside soft As soon as they are roasted, take them from the oven and punch them slightly (better do this with a tea towel if you're inexperienced as you can burn yourself rather easily…)
4. Serve the codfish with the potatoes and the olive oil, decorated with parsley.
healthy alternative:
The dish can be served with a simple green salad or steamed greens.