posted by
sarah.binns2
on
Tue, 04/22/2014 - 16:00

Fruit salad is a rather new addition to the local gastronomy, and some of the fruits used are recent imports such as kiwi and pineapple.
The beauty of a fruit salad is that it can be made with a wide variety of fruits as they come into season.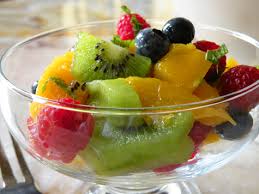 Ingredients:
2 oranges
2 grapefruit
2 apples
2 pears
250g strawberries
1 banana
1 can of sliced pineapple
1 cup of orange juice (plus the juice left from the two oranges)
The juice left from the grapefruits
The juice from the pineapple can
1 shot Brandy
1 tsp sugar (optional)
Process:
1. Peel and section the oranges and grapefruit. Cut into small pieces
2. Core the apples and pears and cut into 1 centimetre cubes
3. Remove the stalks from the strawberries and cut them into small pieces.
4. Place all the fruit in a big glass salad bowl, add the tinned fruit and some of the juice. Add a little sugar and brandy to taste.
5. If using banana, add it just before serving so that it doesn't have time to go brown.
healthy alternative:
Omit the sugar and brandy to make this an entirely healthy fruit salad.
You could serve with plain yoghurt, drizzled with honey.