posted by
sarah.binns2
on
Thu, 04/17/2014 - 12:33
Cottage Pie is a very popular menu choice in the UK. It originated as a way of using up left-over meat and vegetables from a Sunday roast, but this recipe is cooked from scratch using fresh minced beef and vegetables.
It is served accompanied by a green vegetable such as kale or green beans.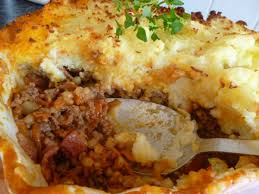 Ingredients:
1 onion
2 carrots
2 sticks of celery
A little oil for frying
400g minced beef
1 can chopped tomatoes
1 tsp mixed herbs
1 tsp Worcestershire Sauce
100g beef stock (made with a stock cube)
A little flour
500g Desiree potatoes or similar
20g butter
A little milk
30g cheddar cheese
Process:
1. Fill a large saucepan with water. Add a little salt if desired.
2. Peel the potatoes and cut into halves or quarters, depending on their size. Put them in the pan, bring it to the boil and cook the potatoes until they are soft. Drain and set aside.
3. Chop the onion, carrots and celery sticks very finely. Heat the oil in a frying pan and fry them gently for five minutes.
4. Turn up the heat and add the minced beef. Break the mince up as it fries, and keep it moving in the pan, until it is browned. Sprinkle a little flour into the mixture and stir in well, allowing it to cook for a couple of minutes.
5. Add the tin of tomatoes, herbs, Worcester sauce and beef stock. Stir well, bring to the boil and allow to simmer until the potato topping is ready.
6. Mash the potatoes with the butter and a little milk until the potatoes are free of lumps and a light, fluffy consistency.
7. Pour the mince mixture into an ovenproof dish and top with the mashed potato. Use a fork to fluff up the top, then sprinkle with grated cheese.
8. Bake in the oven at 190C/375/Gas 5 for 30 minutes, or until bubbling and browned on top. Serve with a green vegetable such as kale or broccoli.
healthy alternative:
Use best quality beef mince for this, so that the fat content is reduced.
Cottage pie can also be made as a vegetarian dish by replacing the beef mince with red or green lentils.These would need to be added at step four instead of the meat.