posted by
sarah.binns2
on
Mon, 06/02/2014 - 14:36

Although similar dishes under different names are traditionally made in Belarus, Norway, Poland, Sweden, Ukraine, Germany and even Canada (it's called Poutine râpée there), and some theories even claim its origins in Jewish cuisine, this dish is the first answer you'll get when asking a Lithuanian person about national food.
Since last year, February 2nd is unofficially called World Zep Day during which Lithuanians all over the world gather in groups to celebrate this iconic, delicious and hearty dish.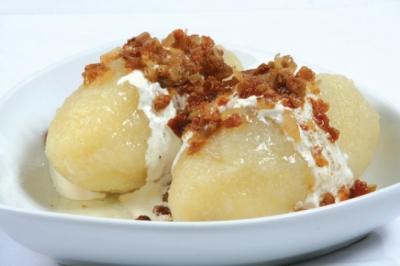 Ingredients:
2kg raw potatoes
500g boiled potatoes
Salt, to taste
500g mixed beef and pork
Ground black pepper, to taste
3 onions
100g cubed bacon, cut in cubes
100g Sour cream
Chopped dill and spring onions (optional)
Process:
1. Peel, grate and squeeze the juice from the raw potatoes (when grating them grate a bit of onion – this keeps the potato mass from darkening because of the vitamin C in the onion).
2. Leave the juice for 10 minutes and after that spill the juice out and put the starch collected on the bottom of the bowl to the grated potatoes mass. If grating the potatoes is not your thing and you happen to have an electric centrifugal juicer you can use that. In this case use the pulp as the grated potatoes mass just pick the bigger pieces (if any) out of it. Juice needs to be spilled also and the starch collected on the bottom need to be added to the mass.
3. Peel and mash up the boiled potatoes (you can also use the meat mincer for that), mix with the dry potato mass, add salt and mix properly.
4. Mince the meat, add a chopped onion (you can fry it in butter before that), salt, pepper and mix well.
5. Put a large pot of water on to boil. To form the zeppelins, take about 100 g of dumpling mixture and pat it flat in the palm of the hand. Place a 50 - 70 g ball of meat mixture in the centre and, using slightly dampened hands, fold the potato mixture around the meat into an American football shape, sealing well. Continue until both mixtures are gone. 6. Carefully lower the dumplings into salted, boiling water to which 2 tablespoons of starch (first dissolved in a cup of cold water) have been added (to prevent dumplings from falling apart). Make sure the water returns to the boil and continue boiling for 25 minutes.
6. Serve with fried bacon cubes and thick sour cream sprinkled and chopped dill and spring onion.
healthy alternative:
The meat filling might be replaced with curd/ricotta mix with spinach or other herbs (tarragon, rocket salad, mint) to taste, and instead of serving them with sour cream and fried bacon you could prepare a light Bechamel sauce (from a bit of butter, flour and milk) garnished with dill and spring onion.