posted by
sarah.binns2
on
Wed, 04/23/2014 - 15:26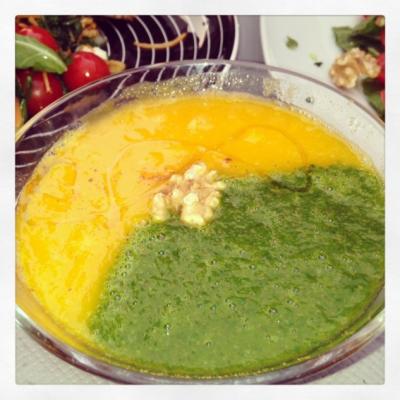 Time needed:
Preparation time: 15m Cook time: 35m Total time: 50m
Ingredients:
3 Carrots
2 Potatoes
200g Spinach
1 Onion
1 Leek
3 Garlic Cloves
Olive oil
1.5L Water
Walnuts
Salt to taste
Process:
1. Peel the carrots and potatoes and cut them into cubes, slice the leek, and add all to a large pot of water with salt (to taste).
2. Peel the onion, dice and add to the pot. Peel the garlic and add whole to the pot.
3. Bring to boil, then when it's all cooked, reduce to a simmer, and add water if too thick, and allow to boil again on low heat.
4. Then lightly puree, using a hand blender. Check for salt, add a strand of high-quality olive oil.
5. Pour half of the carrot soup in another pot and keep it. Add the spinach to the other half of the carrot soup and without letting it boil use a blender to mix the spinach.
6. Then serve the carrot soup and spinach soup in the same individual bowl to get an effect of two colours. To get this effect you put a spoon in the middle of the bowl and pour the carrot soup on one side of it and the spinach soup on the other side.
7. Then place the walnuts in the middle of the bowl and serve the soup.
healthy alternative:
This is already a very healthy recipe using fresh vegetables and olive oil.