posted by
sarah.binns2
on
Tue, 06/10/2014 - 11:02

This recipe bakes whole fish in a salt crust, maintaining the flavour and moisture of the fish very successfully.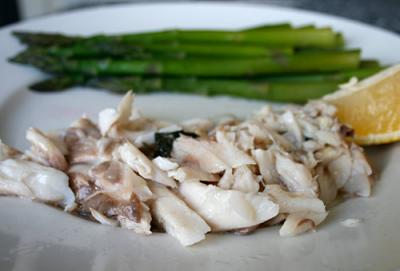 Ingredients:
1 450 - 500g Grouper, Red Snapper Or Other White Fish
4 Egg Whites
150ml Water
3k Kosher Salt (Or Sea Salt)
Handful Of Fresh Herbs Of Choice (Parsley, Oregano & Thyme Are Good Choices)
1 Lemon, Quartered
Extra Virgin Olive Oil
Process:
1. Preheat the oven to 425 degrees F. Rinse the fish and pat dry.
2. Whisk together the egg whites and water until foamy, and then add the salt, using as much of itas you can. Mix with your hands, trying to coat the salt evenly with the egg white mixture.
3. Stuff the fish cavity with the fresh herbs of choice and lemon wedges. Place the fish on top of the salt in the casserole dish, and cover with the remaining salt in egg white mixture, patting it down smoothly with your hands. If you do not have a casserole dish of the right size, use a baking sheet lined with aluminum foil. Pat the salt as best you can around the fish.
4. Bake the fish for about 45 to 50 minutes. (The only way to judge the cooking time accurately would be to use a thermometer. The internal temperature of the fish should be 135 degrees F.)
5. Take the fish out of the oven, and carefully crack the salt shell with a mallet. Remove the skin from the fish, and carefully place large sections of the flesh on each plate using a large fork. Drizzle with a little olive oil, and serve immediately.
healthy alternative:
Despite the use of a lot of salt in the cooking process, this is a very healthy way to bake fish; the end product is very juicy and full of flavour.