posted by
sarah.binns2
on
Tue, 04/22/2014 - 14:44
This is a famous dish from the Black Sea Region.
In the old days, dishes made from carved out stone (Bilek) were pre-heated and than filled with the fish and the other ingredents to be baked. Today we can use an ovenproof dish.
Serve as a single course for lunch or dinner. It is usually followed by a sweet dessert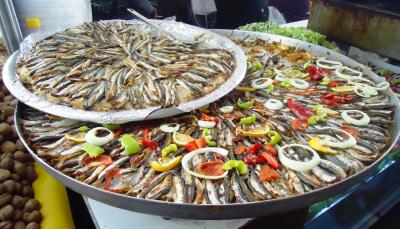 Ingredients:
800g fresh anchovies
Salt 2 ½ teaspoon
6 large potatoes
3 large onions
1 lemon
3 medium tomatoes
3/4 bay leaves
½ bunch parsley
Black pepper
Olive oil
Water
Process:
1. Clean the fish, wash and remove the bones, add 1 teaspoon of salt and mix. Leave to drain in a colander for 15 minutes.
2. Wash the vegetables. Pare and/or peel the potatoes, onions and the lemon. Slice the tomatoes, onions, potatoes and the lemon into half a centimetre thick round slices.
3. Layer the fish in a baking pan. Place the onions, potatoes, and tomatoes over the fish in that order and top them with bay leaves and lemon slices.
4. Add salt to taste, black pepper, olive oil and water.
5. Cover the pan with greased paper. Bake in pre-heated moderate oven for about 40 minutes.
healthy alternative:
This is a very healthy recipe, as it combined oily fish with a variety of vegetables.
Serve it with a crisp green salad for maximum healthiness and enjoy!