posted by
sarah.binns2
on
Mon, 06/02/2014 - 11:18

Šaltibarščiai is a traditional Eastern European (Lithuanian, Latvian, Polish, Russian and Belarussian) cold soup prepared from beetroot and kefir.
It's definitely the most popular summer dish in Lithuania and there is hardly a single dining outlet in our country not including it into the warm season menu!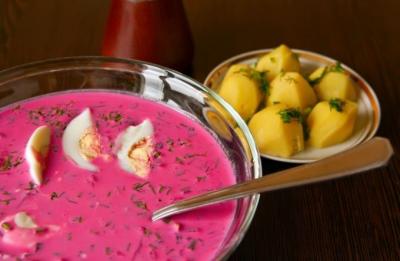 Ingredients:
500g beetroot (boiled of pickled in apple juice),
2 hard boiled eggs
200g cucumbers
20g dill
30g spring onions
1 litre Kefir (might be replaced with natural yoghurt)
salt, to taste;
4 boiled or roast potatoes
Process:
1. Cut the cucumbers into small symmetrical pieces and chop the dill and spring onions.
2. If the beetroots were boiled – cut them into fine "matchstick" like stripes and if they were pickled – drain them.
3. Add kefir (or yoghurt) to the cut vegetables and mix well.
4. If you think the soup is too thick you can add some milk or water for desirable consistency.
5. Slice the hard boiled eggs and add to the plate of soup. Serve with boiled or roasted potatoes.
healthy alternative:
Šaltibarčiai is one of a very few Lithuanian dishes that is healthy just as it is.
Kefir is very good for digestion and after trying it you will see that there is nothing more delicious and refreshing of a hot summer day!